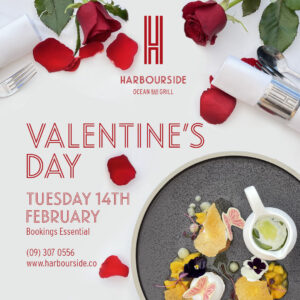 Harbourside Ocean Bar and Grill is the best place to get together with friends to enjoy a sundowner cocktail and a magnificent seafood meal. Good Group Hospitality redesigned this upmarket fine dining venue in 2013, and it's become the prime hotspot in the Auckland CBD for guests to be part of the latest promotions and trending events. We have an all-weather deck that seats 80 guests, with 200 available space for guests inside and air conditioning.
We cater for all special occasions and events, including Mother's Day and Valentine's Day, where you can bring that special person in your life and celebrate them by spoiling them with Harbourside's best seafood cuisine directly sourced from New Zealand. The food is perfectly prepared by our highly acclaimed Head Chef Matheus. Treat them to all-you-can-eat bluff oysters and a bottle of our best champagne at our romantic restaurant Auckland.
Our special events that you can be a part of include the Melbourne Cup After Party in November with special DJs Dan Sing and Murry Sweetpants. All guests pay only $25 and get a flute of bubbly champagne. Another notable event is the best High Tea Auckland. Our delicious, freshly prepared seafood platters, green-lipped mussels, prawns, and whole market fish is a fantastic addition to any significant event. Try our Grade A Fiordland crayfish for a touch of opulence.
We also cater for banquets and will make your special event memorable. Reserve your Christmas dinner Auckland year-end function with us, and our Head Chef will ensure that all your colleagues conclude the end of the year with a bang. No matter your requirements, we'll ensure that it's memorable. Our private dining rooms are available at request for more intimate gatherings. Additionally, our bar has the best
in-house cocktails passionately crafted by our mixologists.
There's always something new and exciting happening at our Ocean Bar and Grill. Events such as our unique celestial dining is an experience to behold. We're open from noon to late, seven days a week. Call us to find out how we can accommodate your special occasion, or regularly check in on our website to see what's on next. Feel free to book online or speak with us directly by calling 09 307 0665.